How does Capri Day Tour work?
Capri Day Tour is a day trip package that lets you visit the island of Capri in complete independence with locked-in low prices.
There is no guide or set schedule, so you can organize your day to fit your travel style and pace...and skip the lines!
Boat Tour of the Island
Bus/Funicular
Chairlift
Restaurant
Happy!

...skip the lines at the ticket offices!
Choose between two options:
BASIC or GOLD
Both options include:
Boat tour with a stop at the Blue Grotto
Transportation to Capri and/or Anacapri
3-course lunch at a restaurant
Round-trip chairlift tickets to Mount Solaro (Gold)

Fantastic experience. As soon as we arrived on Capri we were given all the tickets we needed for the day. Excellent priority shuttle service to and from Capri, lunch was generous and delicious. Highly recommended!
Adario (Italia)

The perfect way to visit the island on your own, without having to deal with a group tour. We especially enjoyed the boat tour and chairlift. Having all the tickets in advance was really convenient!
Kristen (Australia)

If we hadn't bought this package, we would have never been able to see everything on Capri in one day. We skipped the lines for the public bus and had time to walk through both Capri town and Anacapri. The restaurant was terrific!
Toby (USA)
Why book your DIY day trip on Capri with Capri Day Tour?
Prices are all-inclusive with no hidden fees!
Free cancellations up to 48 hours in advance.
Dates and times are flexible: arrive and depart when you choose.

Boat Tour of the Island

Gardens of Augustus

Capri's Piazzetta

Private Bus Service

Lunch at a Restaurant

Chairlift to Mount Solaro

Mount Solaro

The Natural Arch

Funicular
Basic Package
Gold Package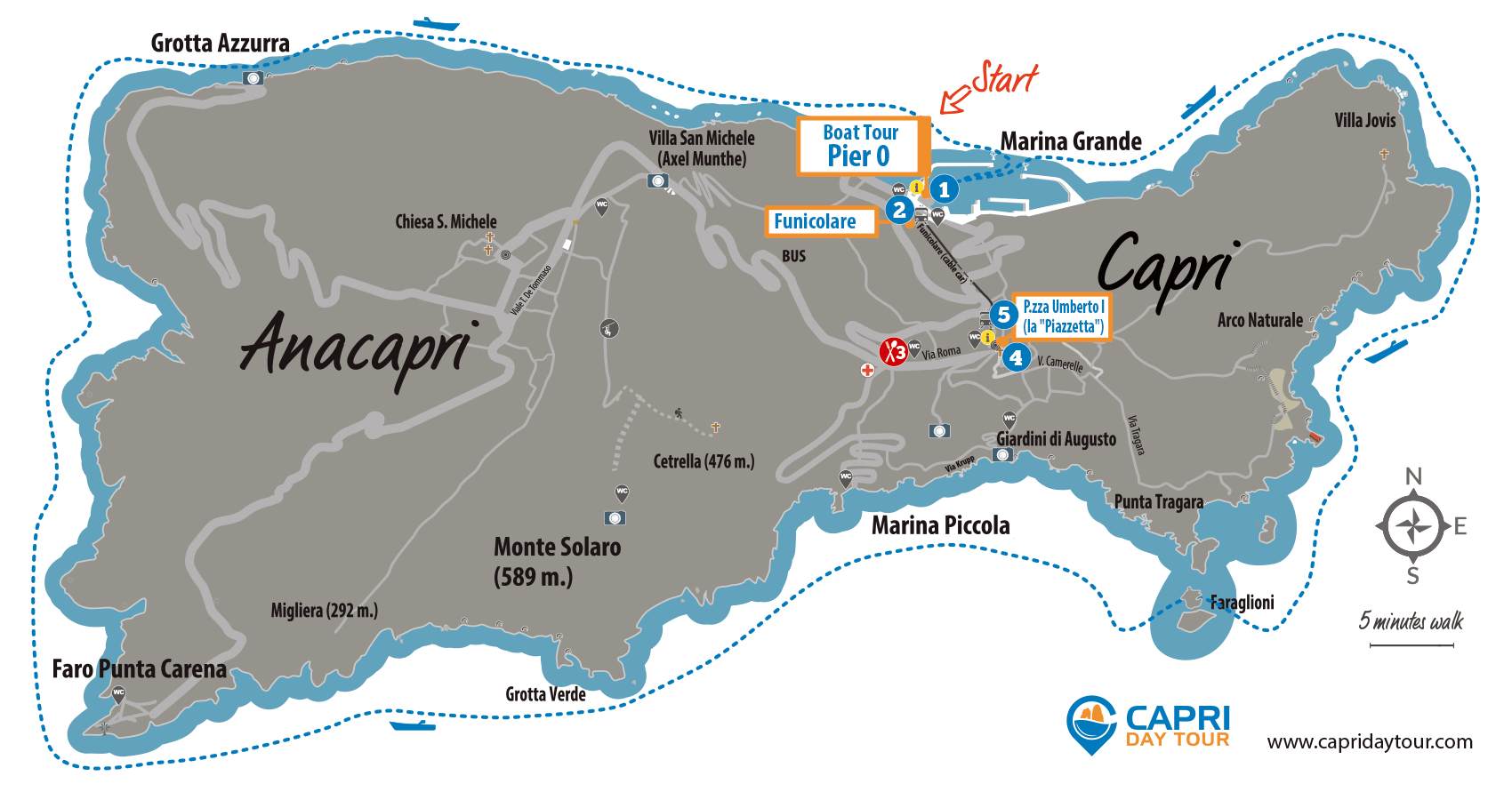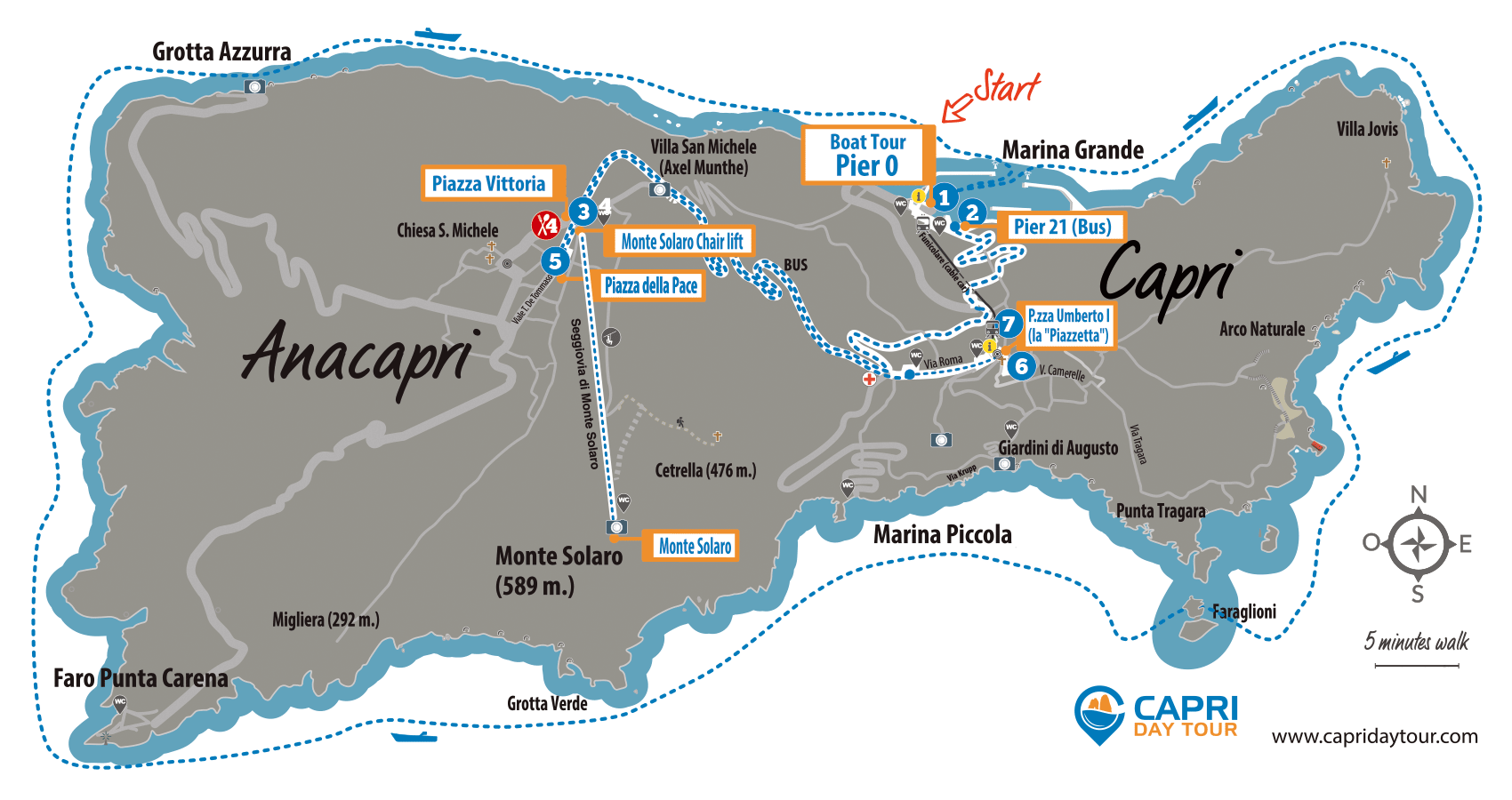 How Capri Day Tour DIY self-guiding tours work
How does Capri Day Tour work?

Capri Day Tour is a day trip package that lets you visit the island of Capri in complete independence with locked in prices. Our Basic and Gold packages include tickets and vouchers for: a boat trip of the island with a stop at the Blue Grotto; funicular tickets to Capri; bus tickets to Anacapri and chairlift tickets to Mount Solaro in the Gold package; and a three course lunch in a local restaurant. There is no guide nor set schedule, so you can organize your day to fit your travel style and pace.

Do you suggest an itinerary for our DIY day trip with Capri Day Tour?

We suggest arriving on the island by 9:30 a.m. You can check ferry schedules here.

Stop by the Motoscafisti ticket office on Pier 0 to pick up your day trip package which includes all the tickets and vouchers you need for the day. Begin by using your boat tour ticket to see the island by sea. The first boat leaves between 9:30 and 10 am, and tours continue non-stop all day.
Use your funicular ticket to take the funicular uphill to Capri town (the funicular departs every 15 minutes from 6 am to 8 pm), or use your bus ticket to take the private blue and grey bus to Anacapri (our private buses run from 10 am to 3 pm) for Gold package trips.
Basic package trips: visit the center of Capri town on your own. Gold package trips: use your chairlift ticket to ride up to the top of Mount Solaro and back (the chairlift runs from 9:30 am to 4:30 pm), then take a stroll through the center of Anacapri.
Use your voucher to have lunch at La Pigna in Capri or La Giara in Anacapri (for Gold package trips), both of which serve from noon to 3 pm.
Gold trip packages: use your bus ticket to take the bus from Anacapri to Capri town, which runs from 11 am to 5 pm.
Free time to explore Capri.
Take the funicular downhill to the port, which departs every 15 minutes until 8 pm.

I booked a day trip package, so what do I need to do once I disembark on Capri?

Go to private pier number 0 in Marina Grande where Motoscafisti di Capri has their offices, skip the line, and show your voucher at the ticket window. You will be given your day trip package which includes all the tickets and vouchers you will need for your day on Capri, including your boat tour ticket, funicular ticket, and lunch voucher. Gold packages also include a bus ticket to Anacapri and a chairlift ticket.
Getting to Capri, Italy
Is the ferry to and from Capri included in the price?

No, our DIY system gives you the flexibility to arrive on Capri with the ferry and at the time you choose, so you can start your day trip as early or as late as you want. We do recommend that you arrive in the morning, however. We do not arrange transfers from Sorrento with small boats for safety reasons. The public ferries are the safest way to reach the island of Capri.

Where can I check ferry schedules and prices?

Ferries for Capri depart from Naples, Sorrento, Amalfi, and Positano. On this page you can see prices, schedules, port information, and even book your ferry online. Public ferries dock just a few steps from pier 0, where you will need to stop and pick up your day tour package from the Motoscafisti ticket window and then depart on your boat tour.
DIY Capri Day Tour Day Trip Packages
What is included in the day trip package?

You will receive a PDF voucher, which you will take to the Motoscafisti ticket window on Pier 0. Present your voucher, and you will receive your package containing all the tickets and vouchers you need. Vouchers can be printed or shown from your smartphone or tablet screen.

What is included in the day trip package price?

All transportation on the island (funicular for the Basic package and funicular, bus, and chiarlift for the Gold package), a three course lunch, and a boat tour. Tour guides and the ferry to and from the island are not included.

Are there guided tours of Capri and Anacapri?

No, you can explore Capri and Anacapri independently at your own pace. We can suggest some of the most interesting sights based on your interests and you can decide where to linger. You don't have to keep up with a group, follow a schedule, or waste time on attractions that don't interest you!

How long does the day trip last?

The Basic package takes at least 4 to 5 hours, while the Gold requires around 8 hours. You have complete control over your schedule with our DIY system, however, so you can take as much or as little time as you need on the island.

Can I change my dates?

Yes, we are very flexible about changing dates and your ticket is valid for five days after the reserved date. If you need to, we can also move your date forward. If you are staying overnight on Capri, you can divide your package over more than one day: for example, using your boat tour voucher one day and your lunch voucher the next. Remember that the restaurants included are closed at dinner!
Reviews
"The Capri day tour was so refreshing after spending a week in Rome it was a beautiful day and the boat tour was fun and very informative. We loved going thru the blue grotto which made it so special!"
"This was a great way to visit Capri, appreciated the quick service on getting boat tour and funicular tickets quickly, also the transfer to another boat as we did Not want to visit the blue grotto."
"This DIY day tour was perfect for my husband and I to explore Capri at our own pace. The only confusion was looking for the private blue bus back to the bottom of Capri. Just ask around for help."
"The day tour was useful to have and gave us access to all the attractions in Capri. We liked the tour because it gave the day structure but we also had the flexibility to do it on our own time! "
"The two were from start to finish was absolutely amazing. Everything was pretty well laid out, with a little common sense and looking around you found exactly where you need to go and Have fun!"
"We bought the Gold Day Trip package & we are very happy with what we got: a hassle-free & enjoyable time on the island. The ride to the top of Mount Solaro in a chair lift was the highlight. "
"Capriday tour offered us an excellent day out. When we arrived everything was ready, we were 6 people, take a boat, then the funicular and finally a delicious lunch in the restaurant La Pigna. Thank y"
"The day was perfect due to the organization of Capri Day Tour! Thank you for arranging the boat tour, bus rides between Capri and Anacapri, chair lift up Mt. Solaro, funicular back to port. Thanks! "
Reviews
Based on reviews »
PERFEZIONARE!
Adoro l'isola di Capri e penso che questo sia il modo migliore per esplorarlo se hai poco tempo: puoi scegliere di visitare l'intera isola in barca, la grotta azzurra e il centro di Capri o more »
PERFECT!
I love Capri island and I think this is the best way to explore it if you have little time: you can choose visiting the whole island by boat, the blue grotto and Capri centre or add also Anacapri to... more »